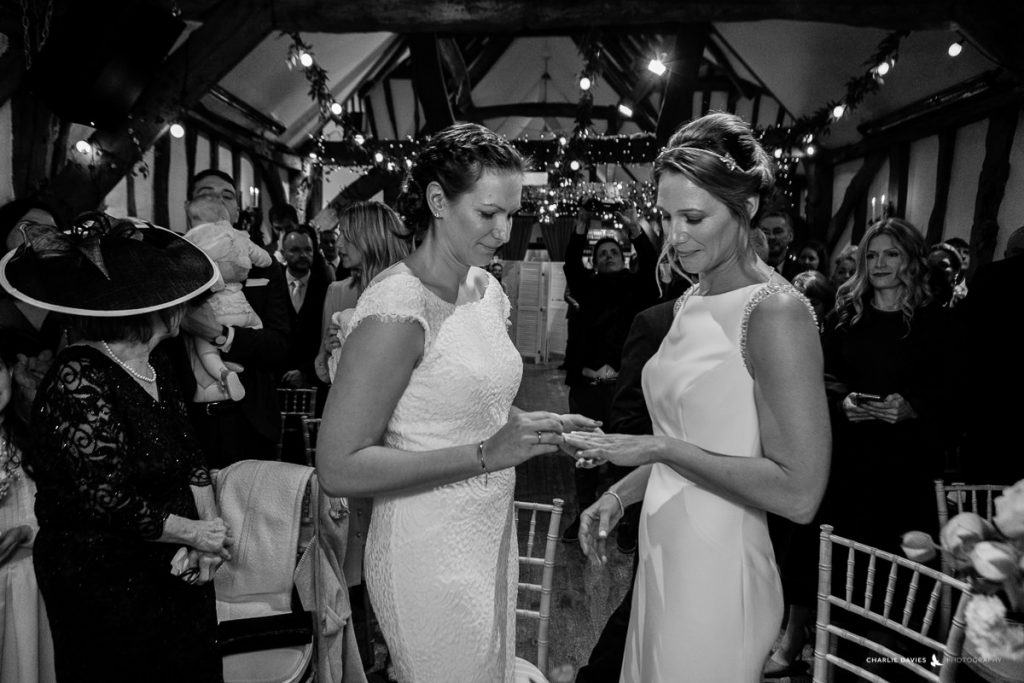 Lauren and Sophie got married on the 20th December 2019 in Hambledon near Henley-
on-Thames. Hambledon is one of the prettiest villages in a valley in the Chiltern Hills. It is also famous for being used as a film location for many well-known films such as Chitty Chitty Bang Bang and 101 Dalmations and Sleepy Hollow to name a few!
The amazing venue that Lauren and Sophie chose was Old Luxters Barn where I arrived
thankfully on a sunny but cold winter day.
Sophie and Lauren arrived in a fabulous vintage car and they both looked stunning!
Sophie in a dress by WED2B and Lauren in a dress created by Pure Couture. The
wonderful flowers and wedding bouquets where created by Joanne Caldwell.
We had arranged to meet before their guests arrived so we could get some portraits done
and not have to take them away from their guests later, as the weather turned to rain later
this proved a good idea!
It wasn't long before everyone began to arrive and there was a wonderful feeling of happy anticipation among the guests. After capturing some superb images of the girls with the
the bridal party I made my way to the Barn to wait for the ceremony to begin.
Lauren arrived first looking incredible and soon wife-to-be Sophie arrived. The ceremony
was relaxed, fun and full of laughter.
On to the drinks reception in the marquee next to the barn. As mentioned before the rain whipped in making it impossible to do any family shots outside so they were all done inside and then on to the wedding breakfast and speeches. Lauren and Sophie took to the microphone and it was clear to everybody in the room what a devoted couple they are.
As the guests relaxed and enjoyed the Old Luxters slow gin, created especially for the
wedding it was clear to see the hard work that the girls had put in to create such a
fabulous day and as a photographer, it is always a great privilege to photograph such
intimate moments in people's lives. There were even wonderful gem favors made by
Lauren's mother and the table and barrel flowers created by Carol Windle.
Soon it was time to cut the cake which was in fact a cheesecake by West Country Cheese.
As the evening guests arrived the girls and their friends hit the dance floor to the sounds of
The Dreamers a fantastic acoustic band who I could not recommend more!
As you can see from the images everything came together to create an incredibly personal
a day with so much attention to detail on display.
The staff at Old Luxters Barn couldn't have been more helpful and it was a pleasure to
work with them.
Lauren and Sophie are a fantastic couple and it meant a great deal to me to be asked to
photograph this wedding as I have known Lauren since we were at school together.
So happy for them both!
Praise:
Charlie photographed our wedding and I can't recommend him highly enough. He is imaginative, energetic, relaxed, fun, interactive when needed but we also forgot he was even there!
You should book Charlie……… you will not be disappointed!!
Sophie and Lauren